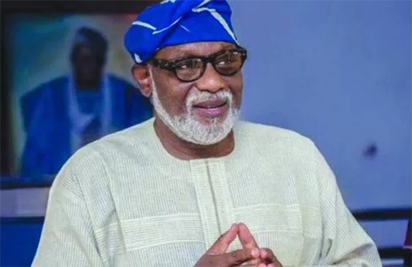 By Dayo Johnson Akure
THE Mega Party of Nigeria (MPN) in Ondo State, has described the 16 month of governor Rotimi Akeredolu in the state as a failure.
Chairman of the party, Biyi Poroye, gave this assessment in Akure, Ondo State capital, during the party stakeholders meeting
Poroye said "rather than benefiting from his government, the state has been experiencing retrogression
He alleged that the present administration in the state has not recorded any tangible achievement in its 16 months of existence in the state
"We are not happy with the performance of the Ondo State Governor.
"It ludicrous and ridiculous that close to two years in Office, Mr. Governor has done virtually nothing to the mandate he got from the people of Ondo State.
"Regrettably, the Ondo State Oil Producing Areas Development Commission (OSOPADEC) which is the life wire of Ondo State has suddenly been abandoned to the extent that it presently serves as dysfunctional agency "
However, in a swift reaction, the governor's Chief Press Secretary Segun Ajiboye, described Poroye as uninformed.
Ajibiye said Poroye allegations were "ill conceived, saying the allegations showed that Poroye was ignorant of what was going on in the state.
Ajiboye urged the MPN chairman to "move round the state to see the what Akeredolu's administration had done so far before criticising the governor.
According to him "the present administration has touched all sphere especially in the area of road construction
"We have performed creditably well in all sectors of the state's economy since the inception of this administration and the good work will continue as we have touched virtually all sectors, education, agriculture, health and roads. "
But Poroye insisted that Akeredolu has abandoned governance for other frivolities that had no benefit to the state and the people.
Speaking on the mission of the party in the next general election, Poroye said "the mission of the party is to rebuild the nation through the enthronement of credible leaders to ensure that all the challenges confronting the country "become a thing of the past"
"We want to mobilise youths, students, women and all stakeholders in Ondo State and beyond for the enthronement of credible and compassionate government through the election of vibrant, honest, youthful and digitally compliant mega personalities in the forth coming election
"We need a government that stands for the hopes, values, and interests of working people, and gives everyone willing to work hard the chance to make the most of their God-given potential"
Poroye however commended President Muhammadu Buhari on his anti corruption crusade, noting that corruption had assumed the status of a monster in the country and must be confronted headlong
The party chairman said President Buhari however "needed to do more on the area of security, saying the President needed to put in place measures to tackle insecurity and ensure that threats to peace and security are dealt with before the 2019 general election.
Related