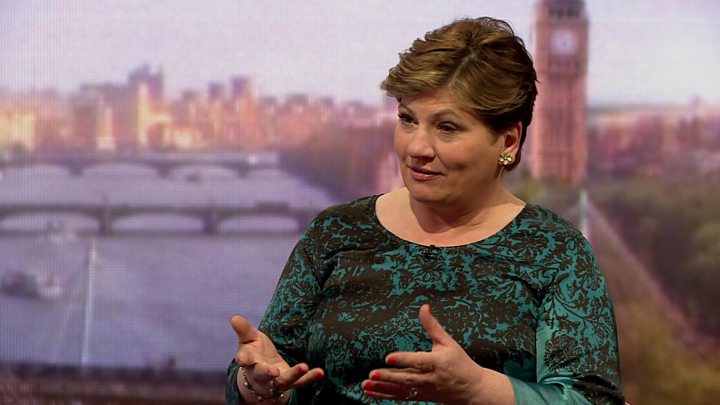 Brexit negotiations with the EU are heading for a "no deal" scenario, Labour's Emily Thornberry has warned.
Shadow foreign secretary Ms Thornberry said the PM's failure to control her party was causing "intransigence" on the UK side, which was a "serious threat to Britain" and its interests.
But International Trade Secretary Liam Fox said a failure to agree a deal was "not exactly a nightmare scenario".
The UK was preparing "mitigation" measures for such an outcome, he said.
Meanwhile, the Spanish foreign minister said the lives of UK expats in Spain would not be "disrupted" – even if no Brexit deal is agreed.
Theresa May will update MPs on Monday on the progress made at last week's Brussels summit, where EU leaders agreed to begin scoping work on future trade talks while asking for more concessions from the UK on the opening phase of negotiations.
These talks, covering the UK's "divorce bill", the rights of expats after Brexit and the border in Northern Ireland, have failed to reach agreement so far – leading to a focus on what happens if nothing is put in place by the time the UK leaves the European Union in March 2019.
Speaking on the BBC's Andrew Marr Show, Ms Thornberry said: "I think what we may be seeing is the Europeans trying to make it clear that it is not their fault that there are these difficulties – the intransigence does not come from their side, it comes from Theresa May's side.
"And in the end I think the reality is the intransigence is on Theresa May's side, because she doesn't have the strength or the authority to be able to control her backbenchers, let alone her cabinet. And I think we are heading for no deal, and I think that that is a serious threat to Britain and it is not in Britain's interests for that to happen.
"We will stop that."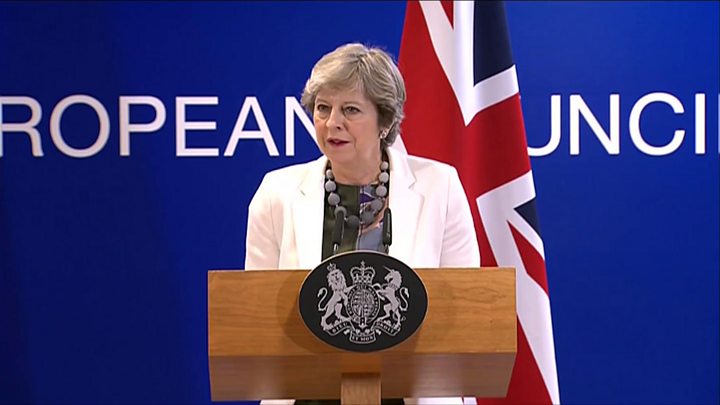 Labour is seeking to work with Tory rebels to amend a key plank of Brexit legislation – the EU Withdrawal Bill – so that Parliament has the power to reject whatever the outcome of the negotiations turns out to be.
Following last week's summit, European Council President Donald Tusk said that although not enough progress had been made to begin trade talks, reports of deadlock may have been exaggerated.
French President Emmanuel Macron said there was still much work to be done on the financial commitment before trade talks can begin, adding: "We are not halfway there."
Speaking on ITV's Peston on Sunday, Mr Fox said a final figure for the UK's financial settlement with the EU cannot come "until we know what the final package looks like", later in the negotiation process.
He also dismissed President Macron's suggestion that "secondary players" in the UK were "bluffing" about the possibility of a no deal outcome, saying this was "completely wrong".
Mr Fox, who is responsible for striking global trade deals after Brexit, said he would prefer a "comprehensive" arrangement to be agreed – but was "not scared" of what would happen if this was not possible.
And he said trade talks would only be complicated if the "European elite" tried to "punish Britain for having the audacity to use our legal rights to leave the European Union".
He said he hoped "economic sense" would prevail, as opposed to the "near-theological" pursuit of closer EU integration.
Expats' rights
When she addresses MPs on Monday, Mrs May is expected to reaffirm her commitment to EU nationals living in the UK, saying she will "put people first" in the "deeply technical" talks.
Speaking on the Marr show, Spanish Foreign Minister Alfonso Dastis said expats would be allowed to continue living in Spain even if no Brexit deal was reached.
"I do hope that there will be a deal," he said.
"If there is no deal we will make sure that the lives of ordinary people who are in Spain, the UK people, is not disrupted.
"As you know, the relationship between the UK and Spain is a very close one in terms of economic relations and also social exchanges.
"Over 17 million Brits come to Spain every year and many of them live here or retire here, and we want to keep it that way as much as possible."