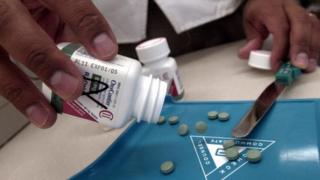 A board member at GlaxoSmithkline is one of those being sued by the US state of Massachusetts over the US opioid addiction crisis.
Judy Lewent has been a GSK non-executive director since April 2011, and was on the board of US company Purdue Pharma until 2014.
The lawsuit seeks damages from 16 individuals, many of whom are members of the Sackler family, and Purdue.
GSK declined to "comment on legal matters faced by another company."
The US is in the grip of an opioid addiction crisis.
Opioids are drugs in a group ranging from codeine to heroin.
Prescription opioids are supposed to be used for pain relief.
In March a study by a federal agency found that opioid overdoses were up 30% over the previous year in the US, with Midwestern states having the highest jump in cases.
The Massachusetts lawsuit alleges that Purdue Pharma, the company behind the drug OxyContin, "created the [opioid] epidemic and profited from it through a web of illegal deceit".
Ms Lewent was named in the lawsuit as one of those "who oversaw and engaged in a deadly, deceptive scheme to sell opioids in Massachusetts."
Half of the people named in the lawsuit are Sackler family members.
According to Forbes, in 2016 the Sackler family was worth $13bn, helped by sales of OxyContin, a powerful narcotic.
Purdue has paid out millions of dollars to settle charges from federal prosecutors over OxyContin marketing, and makes billions from the sale of the drug, Forbes said.
According to US reports, Minnesota this week launched a lawsuit against Purdue Pharma over the marketing of OxyContin.
Purdue had not responded to a request for comment at the time of writing.
Ms Lewent would not be making a comment, a GSK spokesperson said.
GSK said: "It is not appropriate for GSK to comment on legal matters faced by another company".