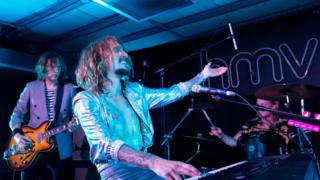 Music retailer HMV is poised to enter administration for the second time in six years, a move that would affect 2,200 staff at more than 120 stores.
HMV's sales have been hit by competition from streaming services and online retailers.
The BBC understands the company could appoint administrators as soon as Friday.
In 2013, HMV was taken over by Hilco, which specialise in restructuring companies.
Hilco bought 141 stores from the chain, in a deal worth about £50m.
The firm saw HMV host live events in store, with musicians including Kylie Minogue, Stormzy and The Darkness.
'Sand not rocks'
Digital music revenue overtook sales of physical formats like CDs and records for the first time in 2012.
Since then, online shopping and downloads and streaming provided by platforms such as Amazon, Spotify and Netflix, have continued to eat into sales of physical music.
Julie Palmer, partner at business consultancy Begbies Traynor, says the fall of HMV has been "coming for many years".
She added; "It has been revealed that the business turnaround has been built on a bed of sand rather than rocks."
Weak retailing
Richard Lim, Chief Executive, Retail Economics, said HMV's situation came amid a weak retailing climate: "Poor Christmas trading has claimed its first victim."
While Christmas is normally a time of higher revenues for retailers, the number of shoppers hitting the post-Christmas sales dipped this year.
Britain's shops have also faced uncertainty over Brexit, which sparked a fall in the pound and therefore raised the price of imported goods, rising labour costs, higher business property taxes and unseasonably warm weather.
HMV, famous for its iconic logo featuring a dog and trumpet, is Britain's last surviving national music retailer.
It was launched by English composer Edward Elgar in 1921, selling gramophones, radios and popular music hall recordings.