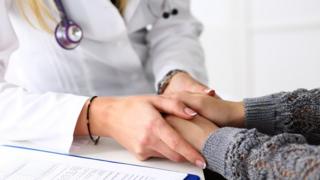 Not a single person has applied for a job vacancy to work as a GP in a Pembrokeshire surgery in the last nine months, a report states.
Goodwick Surgery in Pembrokeshire has no permanent doctors and is being run fully on locum cover by Hywel Dda health board.
Despite an advert for an £84,000-a-year GP getting 2,600 views, not a single person has inquired about the job.
Hywel Dda said it "shared the community's disappointment".
The health board's Dr Iain Robertson-Steel said efforts to fill the vacancy were ongoing but GP recruitment was a "national issue".
He added: "GP recruitment and retention problems are not unique to Pembrokeshire."
The report, being considered by Pembrokeshire Council on Thursday, says the practice is using telephone consultations with GPs from other practices to meet demand.
Dr Iain Robertson-Steel, the country director for the Hywel Dda board, said talks are also underway with Fishguard Practice to "ensure sustainability of services in the short, medium and long term".
Meanwhile, both Solva and St Davids surgeries are being run by a single GP, with the practices sharing patient records to help workloads at certain times of the day.
Dr Robertson-Steel said the increased demand from patients, alongside recruitment and retention issues, was putting a "real strain on practices with waits for routine appointments increasing".
Rebecca Payne, chair of the Royal College of GPs Wales, said while the health board had been working hard to support Goodwick Surgery, the way new doctors were attracted to Wales needed to change.
She said: "We do not have enough GPs in Wales and we need more focus on retaining the ones we have got, and making our rural communities more attractive for families to move into."