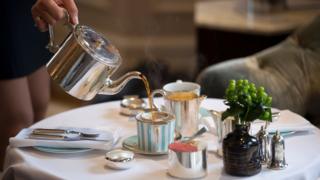 Growth in the UK's key services sector has hit its lowest level since July 2016, prompting fears of stagnation.
The purchasing managers' index (PMI) from IHS Markit/CIPS sank to 50.4 in November, down from 52.2 in October. A figure above 50 indicates expansion.
"The survey results suggest that the pace of economic growth has stalled," said Chris Williamson, chief business economist at IHS Markit.
The services sector accounts for about 80% of the UK economy.
The last time the index was this low came in the immediate aftermath of the UK's referendum vote to leave the European Union.
"A contraction of service sector business activity in November was only avoided by firms working through back-orders to an extent not exceeded since 2009," said Mr Williamson.
"As such, unless demand revives, a slide into economic decline at the turn of the year is a distinct possibility."
Mr Williamson added that clarity in relation to Brexit arrangements was "urgently needed to help ensure the current stalling of growth does not translate into a downturn".