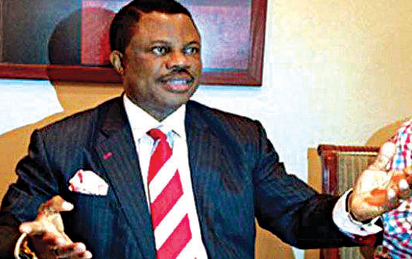 By Tony Nezianya
AWKA—ANAMBRA State government yesterday said it had yet to receive the refunds of the N43 billion owed it by the Federal Government for projects executed by the state government.
"What has just happened is that the process has just begun. We are still far from receiving the funds," Anambra State Commissioner  for Finance, Mr Ifeatu Onejeme said.
He was reacting to stories by a section of the media congratulating the FG over the purported refunds of the funds expended in executing Federal road projects in the state.
According to him, the Senate has merely approved a borrowing plan by the Federal Ministry of Finance, under which refunds would be facilitated.
"The approved borrowing plan is a long way to actual receipt of the cash by the state.
"What will now happen is that the Debt Management Office (DMO), the Central Bank of Nigeria (CBN) and the Ministry of Finance will now work out details of the borrowing plan of the N37 billion approved, in order to determine the source of funding of the plan.
"The plan may also involve the Securities and Exchange Commission (SEC), if the instruments to be used will involve them."
Mr Onejeme explained that it was the suggestion of Anambra that since there were no immediate cash for liquidation of the debt; the FG could pay through the floating of bonds or promissory notes."
Related