By Prince Okafor
The Atiku Door-to -Door  Connect Campaign team, yesterday, harped on the need for a corruption free nation, stating that Nigeria needs liberation now.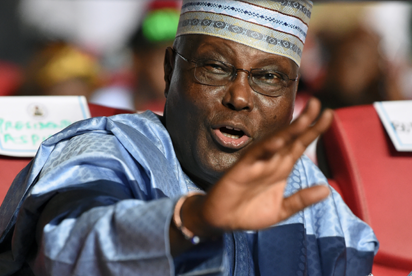 Speaking during a courtesy visit by the team to Vanguard newspapers head office in Lagos, National Coordinator, Atiku Door-to-Door Connect Campaign, Mrs. Helen Fred-Dim, said: "We need freedom in Nigeria, and if someone does not start it, it will still continue to be the same story.
"Our team is currently creating awareness as well as educating Nigerians, especially the youths, on the importance of Permanent Voters Cards, PVCs, because that is our power.
"Our attention is more on people that are above 18 years. We are also attracting people that are less than 18 years so that by 2023 they will be either 18 or above and be eligible to vote. We are doing everything possible to ensure they get their PVC."
2019 poll: INEC warns against fake voters' register
Also, the Coordinator of the team, Olumide Akomolafe, said: "As we all know, charity begins at home, if you have to start from somewhere, you will have to start from the grassroots. The grass root is the future of this country.
"We are currently working on bringing young minds into our platform that are 18 years and above to educate and encourage them on how best to end corruption in the country.
"We are also bringing those lower than 18 years, we understand that they are  minors, so we are grooming them for 2023 as we believe that by then, most of them will be eligible. We are also organizing a series of workshops to improve their moral.
"We have a software application where they collate the documents of youth. The application can easily be completed on a mobile phone; you can download the website, install it and go in and register.
"While we are doing that, there are so many things that we are bringing up on this platform. Number one is to mitigate rigging.
"We created the platform in such a way that we can control and minimize rigging. Right now, we based our operation on the number of polling units for the coming election, from our report we have 119,973 polling units."
Related